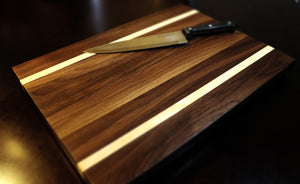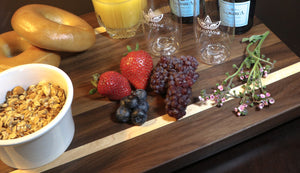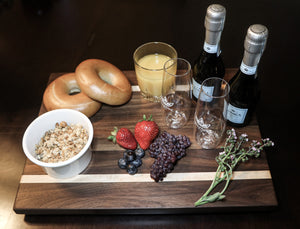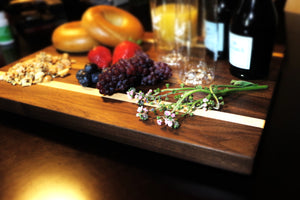 Walnut and Maple Cutting Board
Made from premium hardwoods, our cutting boards are created for elegance, and could be used for food preparation or as a sophisticated charcuterie board.
This cutting board features a board made from walnut and accented with maple.  The dimensions are approximately 17" long x 11" wide and 1 3/4" thick.  
This robust cutting board comes equipped with rubber feet to ensure your board does not move around and finished with our custom food safe beeswax and mineral oil blend.
Care Instructions
Wash with warm water and a mild soap after each use.
Allow board to air dry or wipe dry with a cloth after washing 
A small tin of board conditioner (beeswax and mineral oil) is included and should be applied to the board after drying your board for the first month, thereafter, apply when needed.
Wood cutting boards or charcuterie boards should never be washed in a dishwasher.
Natural wood is a functional art piece that may be change depending on climate or storing practices. Feel free to contact us if you have any questions.
---